Declare-it Dutax
Dutax is a product of the successful SISA Declare-it customs software family. Dutax stands for Duties and Taxes – referring to the integrated processing of all customs and VAT-specific data and documents for import and export customs clearance.
Declare-it Dutax simplifies import processing, especially the automated processing and archiving of eVV import (and export). Collection, control, search functions and evaluation of customs account relevant data and documents become highly efficient with Dutax and offer the following features:
Software and data as cloud solution
- no software installation necessary
- all data are stored in the Swiss SISA computer centre
Fully automatic collection and display of eVV and bordereaux
Control and processing of the eVV import and customs bordereaux
Referencing the eVV Import with Purchase Order
Detection of incorrect debits to the customs account
Control of the authorised customs clearance partners
Integration eVV from third party providers (carrier, integrators, etc.)
Comprehensive search options across all documents and data
Optional additional functions even for complex requirements
- Comprehensive reports and statistical evaluations
- Legally compliant 10-year archiving
- Integration into existing ERP systems
Dutax uses all customs and VAT information of the eVV and provides the importer with completely new opportunities for further processing of all import-relevant information.
In addition, we are happy to help you prepare and send your registration to the customs client administration (ZKV) and their administration.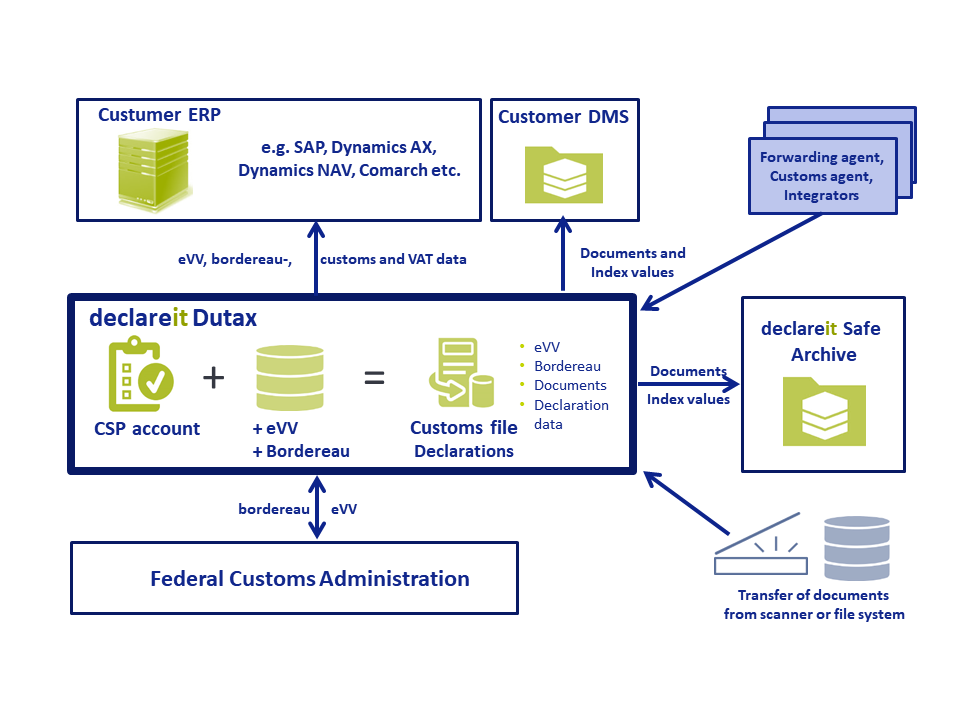 This is how Declare-it works
The importer sends the freight and customs information to their logistics service provider (freight forwarder, customs agency, integrator)
The logistics service provider carries out the import customs clearance via e-dec Import
Automatic retrieval of the eVV and bordereaux from the customs server
Upload of additional eVV from logistics service providers if available.
Simple control of eVV and bordereau thanks to an alert system (traffic light)
Interface for the transfer of customs data into own ERP if needed.
Legally compliant archiving of the eVV in a DMS archive system (e.g. Declare-it Safe).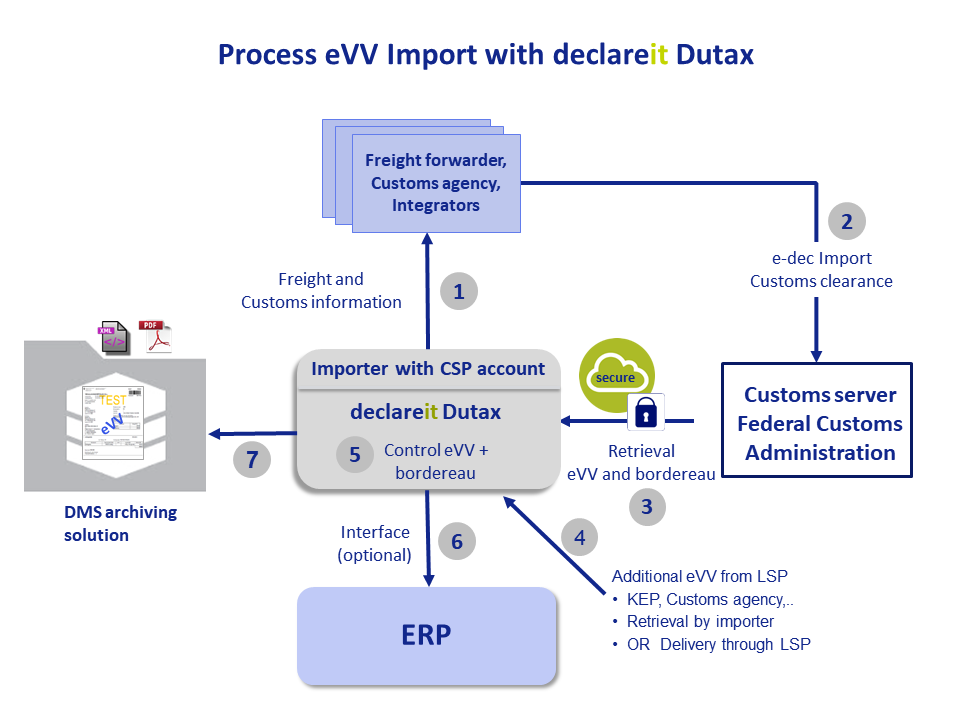 Obtaining the eVV with Declare-it Dutax is that easy
Registration with the customs client administation (ZKV) is mandatory. You can do this directly. If you want to skip the administrative work, we'll be happy to do this for you. All we need is a power of representation from you for us to carry out the registration and administration on your behalf.
Declare-it Dutax is configured according to your requirements based on a workshop.
Your employees will be trained on-site, online or at our location.
Declare-it Dutax will be activated on your requested date.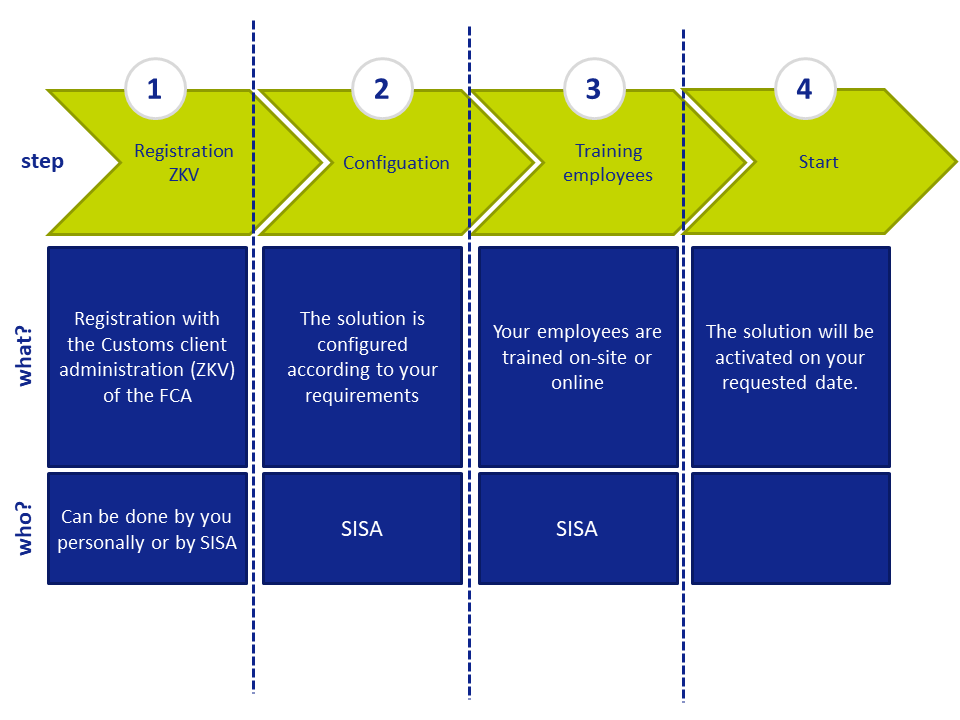 Value-added benefits
You can also profit from Declare-it Dutax's many value-added benefits:
Legally compliant archiving of the eVV Import
The legally compliant electronic archiving of all eVV-relevant data is of major importance: eVV customs, eVV VAT, customs and VAT refunds and test logs. This data is stored and archived with the module Declare-it Safe exclusively in Switzerland for 10 years and according to Swiss legal regulations. The data remains unaltered.
Reporting and statistics
The bordereau and eVV data provide the importer with all customs and VAT-relevant information on the import. Dutax creates a "declaration file" for each customs clearance. Dutax Reporting provides the account owner with a wide range of standard evaluations according to
Customs tariffs and duties
Value-added tax
Countries of origin and destination, preferences, etc.
Statistics of goods by tariff codes
Additionally, customer-specific individual reports are also possible.
Integration, technology and IT infrastructure
All data and documents available in Dutax can be easily integrated into your ERP or third-party system by using standardised interfaces.
Declare-it Dutax was developed with the latest web technology. The entire application control and operation is done by using your web browser. In this fashion, you can work with Dutax without using your own IT infrastructure.
Declare-it Dutax
Quick installation
Low entry costs
Simple Upscaling
automatic updates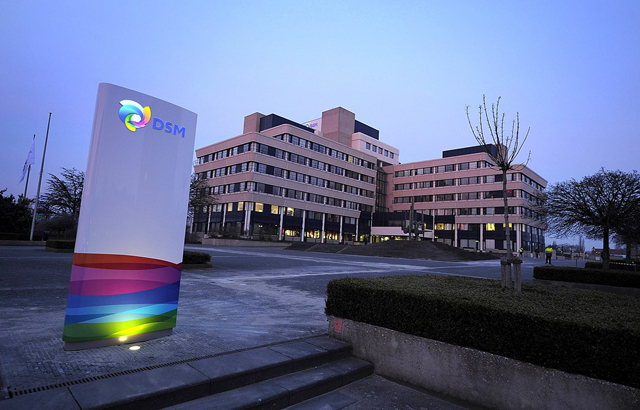 DSM Nutritional Products automates customs clearance and eVV Import
DSM Nutritional Products Ltd uses the Declare-it Export and Dutax software solutions from SISA Studio Informatica SA for efficient customs clearance.
The company has saved costs in the 6-digit range and significantly increased process efficiency in its daily business. A good example of how eVV Import can be introduced in a beneficial way.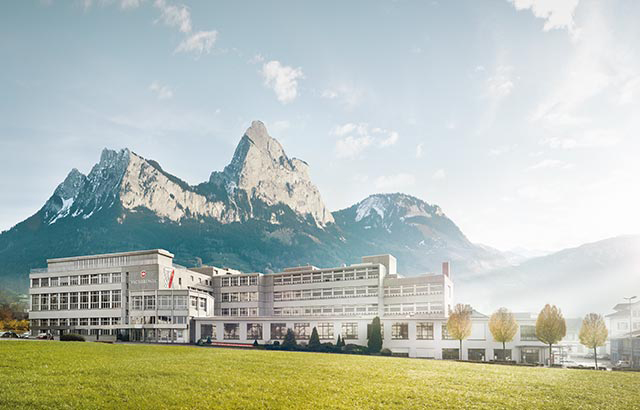 Victorinox automates and optimises import customs processing
Victorinox uses the software solutions Declare-it Dutax from SISA Studio Informatica SA and InfoShare from Kendox for efficient import customs processing and legally compliant archiving of documents.
The software solutions help Victorinox to increase process efficiency and compliance in its day-to-day business.