Cloud / SaaS Services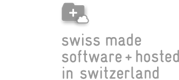 More and more companies are deciding to operate applications in an external data centre for cost reasons or due to strategic decisions - e.g. because they do not want to set up their own IT department. As a result, SaaS (Software as a Service) is becoming increasingly important, especially for SMEs.
Since 2000, SISA has also been offering its software as a cloud solution.
Today, more than 220 companies are relying 100% on SISA SaaS services.
Technics & Helpdesk
Our technical helpdesk offers all customers support for questions and assistance via a direct helpdesk number. The helpdesk staff can access customer systems directly if required. This enables immediate and competent support, including remote troubleshooting.
The helpdesk services include support for
SISA applications
Network and communication infrastructure
IBM Power System
Microsoft Windows Server
Services for PCs and peripheral devices
The SISA Helpdesk team speaks German, French, Italian and English and is at your disposal from Monday to Friday from 07.30 to 12.00 and from 13.30 to 19.00 h:
0844 49 49 49
(normal rate)
Projects & Consulting
More and more companies are focusing on their industry and core competencies. Often, IT is not one of them. Especially with the introduction or replacement of existing applications and processes, questions about business processes and organizational adjustments arise. These are topics and issues that are primarily of strategic importance and for which market-specific conditions need to be taken into account and trends within one's own company have to be examined.
Our IT and logistics specialists are familiar with these challenges thanks to many and successfully implemented projects and will be happy to advise you. Whether it is freight forwarding, air freight, warehouse logistics or customs clearance, we will talk about your requirements first before tackling IT technologies.
SISA also provides the following services for project management:
Preparation of detailed analyses
Development of solution concepts
Assumption of overall project responsibility by project managers specialised in information technology and logistics
Project responsibility in cooperation with other solution partners