Victorinox automates and optimises
import customs clearance with Declare-it Dutax
Victorinox uses the software solutions Declare-it Dutax from SISA Studio Informatica SA and InfoShare from Kendox for efficient import customs clearance and legally compliant archiving of documents. The software solutions help Victorinox to increase process efficiency and compliance in day-to-day business.
Initial situation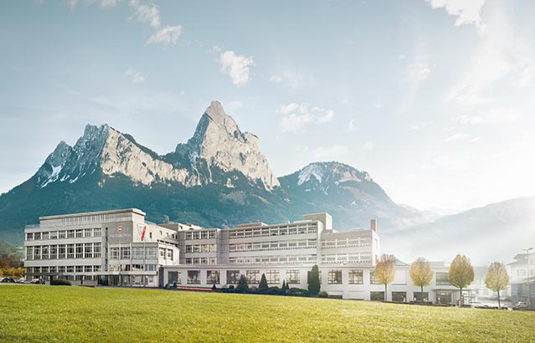 Victorinox has been known as a knife manufacturer in Switzerland for over 130 years. Since the 1890s, the famous Swiss pocket knives with the striking logo have conquered the world. Today, Victorinox is a global company with the following product lines: Swiss Army Knives, household and professional knives, watches, travel luggage and perfume.
Victorinox also operates around 70 retail stores and shop-in-shops, both in Switzerland and abroad. The Swiss Army Knife is considered a core product and is a pioneer in the development of all product categories.
To prepare the company for the future, the management team and various departments are working on a digitalisation strategy.
The goal is to examine Victorinox's business model and derive possible digitalisation initiatives, which will then be analysed and described in detail. In the process, possible measures or technologies are evaluated that optimally support the processes predestined for digitalisation. At the same time, management of electronic documents, information and files will be optimised.
Victorinox had set the following goals for the eVV import and data management projectt:
Automated collection of the eVV
Online control of the eVV and customs bordereaus
Automation of import customs clearance
More efficient, more transparent import processing
Automation of document/data storage in the procurement process
Integration with the company ERP system
Cloud solution for lower maintenance costs for internal IT
High-quality support
Reduction of paper and space consumptions
Reduction of time required for revisions/simple queries through full-text search
Transparent evaluation and analyses
With the central, unchangeable and forgery-proof archiving and long-term storage of import documents, an important step towards digitalisation of all business-relevant files and documents, long-term storage and their controlled destruction is taken.
SISA Studio Informatica SA successfully asserted itself against several suppliers. The decisive factors were:
high level of consulting and customs expertise of the IT service provider
a mature, field-proven cloud-based standard product
legally compliant archiving with Kendox Infoshare
Declare-it Dutax ensures the integrated processing of all customs and VAT-specific data and documents for import processing.
Victorinox has been working successfully with Declare-it Dutax since 2017. The project was completed within the planned budget. Victorinox's expectations of SISA were entirely fulfilled.
"The introduction of Dutax and the integration of InfoShare have helped us to make the entire procurement process more transparent. This enables detailed analyses and optimisations", explains Thomas Meier, Project Manager PPM, Global Process and Project Management, at Victorinox.
"The interfaces between the individual applications allow us to add ERP data with eVV data from Dutax and then archive it in our InfoShare archive/DMS system under compliance aspects. Document management and mobile access around the clock are guaranteed."
"Declare-it Dutax in combination with InfoShare increases efficiency by reducing administrative work. All in all, this is a successful project with high verifiable benefits."

 Thomas Meier, Project Manager PPM, Global Process and Project Management Victorinox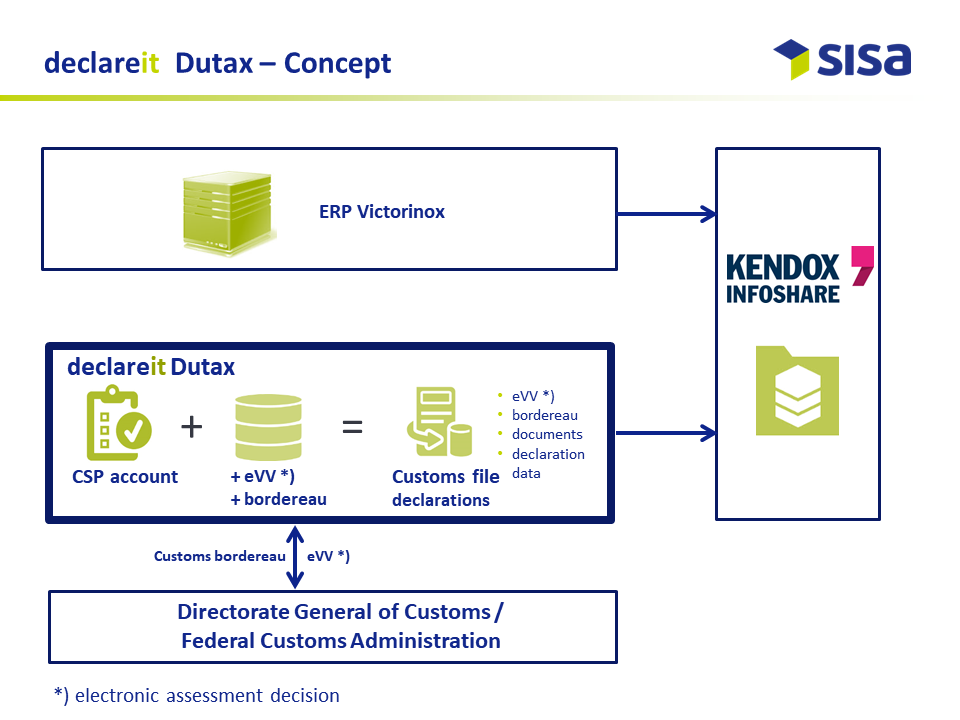 Customer benefit
The Dutax solution for eVV Import enables automated collection of customs receipts, easy, fast and secure control of receipts and invoices, document storage and simple search processes.
"With Declare-ti Dutax we can easily meet the tax administration's requirements. The availability of all customs receipt information in digital form enables ongoing electronic matching of movements in the various Victorinox customs accounts," explains Thomas Meier. "In the past, we received the supplier invoice before the customs documents. Now the customs documents are available digitally on the day of the border crossing. No papers can get lost. Control of imports becomes easier. Thanks to increased transparency, mistakes can be reported and corrected more quickly. The ability to access all data and documents in real-time is crucial for us for smooth communication and rapid problem solving with the customs authorities."
"Declare-it Dutax in combination with InfoShare increases efficiency by reducing administrative work. All in all, this is a successful project with high verifiable benefits", adds Thomas Meier. "The introduction of Dutax eVV Import solution was an interesting project. The standard solution was adapted to our requirements. SISA was able to further improve Dutax, which will benefit future customers. Both companies could learn and benefit from each other. SISA's consulting, project management and technical implementation were highly professional, helpful and flexible."
Outlook
Following the successful introduction of Declare-it Dutax and InfoShare in the Swiss Army Knives/household and professional knives division, the solution will be introduced in the remaining divisions as well: watches, luggage, perfume and retail. The goal is to ensure efficient processing of the assessment decision and legally compliant filing in the corrsponding archive/DMS. For the utmost possible transparency concerning the procurement history, in addition to the electronic assessment orders, further document types related to a procurement order are stored in the archive/DMS.
This is possible in real-time with the cloud-based Dutax solution and the standard integration with InfoShare.
Project - Quick Wins
Reduced administrative effort
Faster matching with orders/invoices
Increased transparency in the procurement process
Acceleration of the import process
Faster refund of VAT
Better control of customs partners
Legally compliant, digital archiving
Improved compliance
Less IT effort thanks to cloud solution