Temporary admission
The temporary admission procedure is intended for foreign goods that are only used for a limited time in the country (temporary importation) and are not to be released for free circulation.
The temporary admission procedure is also applicable to domestic goods which are temporarily used abroad and then re-imported with complete exemption from duty (temporary export).
The temporary importation procedure is subject to certain basic conditions:
the goods must be intended for re-export or re-import
they must be re-exported or re-imported in their original unchanged state
the identity of the goods must be guaranteed
for certain uses an authorisation is required (temporary import)
The assessment can be made by several documents (ZAVV, ATA Carnet, etc.) or even informally. The applicable legal bases and regulations govern the details. The two most common variants of the ZAVV and the ATA Carnet are described below.
ZAVV
One option is with the customs declaration for temporary admission ZAVV (11.71/11.73). This is an exclusively Swiss procedure and does not involve foreign customs formalities.
This is the temporary import and export of goods. After temporary use, the imported goods must be re-exported after a maximum of two years. In this case no import duties are levied.
The goods must be re-exported unchanged. Changes to the goods, other than through use or measures serving to preserve them, are not permitted. The most important categories of goods for temporary use are, for example, professional equipment, exhibition and trade fair goods or certain means of transport.
Customs requires a deposit equal to the amount of import duties which would normally be payable on importation.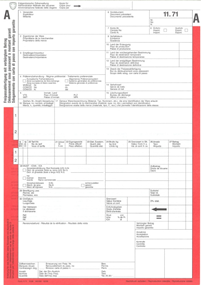 Customs form for temporary admission ZAVV
ATA Carnet
The second option is with the ATA Carnet. Unlike the ZAVV, the ATA Carnet is an international document and is only valid for one year. Responsible for issuing the ATA carnet and the corresponding duty guarantee system are the chambers of commerce. The identity of the goods must be 100% provable, e.g. by a serial number or a chip in the case of sport horses.
The most important areas of application for the " ATA Carnet " are goods for fairs and exhibitions, professional equipment, samples for presentation (watches, jewellery, clothes, etc.), sports equipment and sports horses.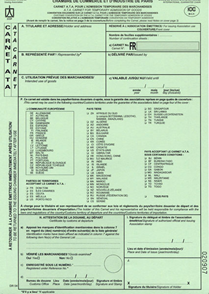 Customs form ATA Carnet
The differences at a glance
ZAVV
ATA Carnet
Issuer
Swiss customs (FCA)
Chambers of Commerce
Validity
2 years
1 year
Territory of validity
Switzerland
International
Guarantee
Deposit equal to the amount of import duties
Guarantee system of the Chamber of Commerce
Area of application
Goods for exhibitions and fairs, professional equipment or certain means of transport
Goods for fairs and exhibitions, professional equipment, samples for presentation (watches, jewellery, clothes, etc.), sports equipment and sports horses