Habasit relies on Declare-it Export SAP® - the
module for e-dec export fully integrated into SAP
In Declare-it Export SAP® Habasit has found a smart and secure solution for efficient customs clearance. This module from the successful Declare-it product family form SISA Studio Informatica SA is fully integrated into SAP and enables Habasit to work consistently in its familiar SAP environment.
Initial situation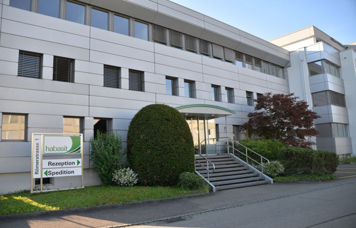 Habasit AG, headquartered in Switzerland, is the world's leading company for the manufacture and distribution of conveyor and processing belts as well as power transmission belts for the food, wood, paper, postal, logistics, and automotive industries.
More than 3700 employees worldwide work at 40 subsidiaries and agencies in over 70 countries and 17 production sites.
At Habasit's most important production site in Reinach, Daniel Kehl as Head of Logistics manages the entire supply chain with his team of 23 employees. Approximately 4,500 tons of raw materials and finished products are handled annually in both inbound and outbound traffic.
100% of the manufactured goods are exported, mainly to sales companies but also directly to distributors and end-users. The distribution network extends from Canada to New Zealand. "We work with 4-6 "preferred carriers". Everyone has strengths and weaknesses on their lines", says logistics manager Daniel Kehl. Every year, 1,500 consolidated large consignments leave the plant in Reinach, packed in 9,000 standardised packaging units up to a length of 4.2m. "Within the Habasit Group we have achieved the status of a logistics competence center for complex issues", mentions Daniel Kehl with pride.
A major focus of logistics is production planning based on the monthly rolling forecast inputs from the global subsidiaries. Optimal batch sizes and capacity utilisation, reasonable stock on hand at all levels, on-time delivery and reacting very quickly to changes in market demand are the major challenges. At the Reinach production site, demand planning extends over a time frame of six months. A maximum storage period of two months testifies to efficient use of resources.
The necessary flexibility in efficient resource planning requires a reliable and stable ERP software solution and stable, error-free master data management. Habasit Reinach relies on SAP for this. "We have an exact and fast overview of our production planning at all times and, in addition, the sales partners have online SAP access to view the status of current orders at any time and to print out documents locally. For all these reasons, transport and customs processing must be very smooth, efficient and trouble-free", explains Daniel Kehl.
Objective
After the introduction of e-dec Export, Habasit was looking for a simple, fast, trouble-free and sleek solution for the entire customs clearance process. SAP integration was a central criterion for the customs processing of the 1,500 shipments from 14,000 order items per year.
After a careful and thorough evaluation, the choice finally fell on Declare-it Export SAP ®. This module enables seamless integration with the SAP ERP system. "We wanted to avoid overkill and found a lean, competent and secure solution in Declare-it Export SAP® ®", comments Daniel Kehl.
Declare-it Export SAP ® was installed on the existing SAP system at Habasit. An IDoc adapter provides the interface to the Declare-it Export customs application in the SISA computer centre. "The advantage of this variant is that we do not have to worry about additional innovations and adjustments at customs, since updates of the Declare-it application and customs master data are continuously carried out in the SISA computer centre", says Daniel Kehl.
The data for creating customs declarations is transferred directly from SAP documents to Declare-it Export SAP ® and can be post-processed there. Customs data not recorded in SAP, such as non-customs decrees, e-approval details or processing and repair traffic, are completed in Export SAP® .
The data transmitted by SAP is transferred to Declare-it, checked for plausibility and forwarded to the customs computer of the Federal Customs Administration (FCA). A communication system developed and optimised for Declare-it controls the entire data exchange.
In addition Declare-it Export SAP ® fulfils all security aspects of the FCA. This ensures maximum speed and optimum security in customs clearance.
All customs returns and documents such as export lists, eVV or any customs error messages are transferred in full and automatically forwarded to SAP or archived.
Daniel Kehl illustrates the simple and efficient processing with an example:
On his desk, there is a printed packing list, the shipping order and the corresponding commercial invoice. The approximately 50 order items of the shipment have all already been recorded. The goods are packed and waiting for you at the forwarding agent. All that remains is to prepare the export declaration at customs and the consignment is ready for dispatch. "Now all I have to do is call up the shipment with the invoice number. With a further mouse click, the export is already declared for customs. The driver can take the printed papers with him in a few moments", says Daniel Kehl. There is nothing to be seen of Declare-it in the graphical interface. The user has the feeling that he is working in SAP as usual as all processes take place in the background.
The fact that SISA is domiciled in the same municipality as Habasit did not play a role in the evaluation. For Daniel Kehl, the decisive factor was "SISA's many years of customs expertise and the fact that we can manage this important process ourselves or ensure the archiving of documents in-house. Furthermore, we can always count on SISA's extensive know-how. Be it in IT-technical matters or case of questions and requests regarding the product "Export SAP ®".
"With a further mouse click, the export is already declared for customs. The driver can take the printed papers with him in a few moments. All technical processes take place in the background for the user."

 Daniel Kehl, Head of Logistics Habasit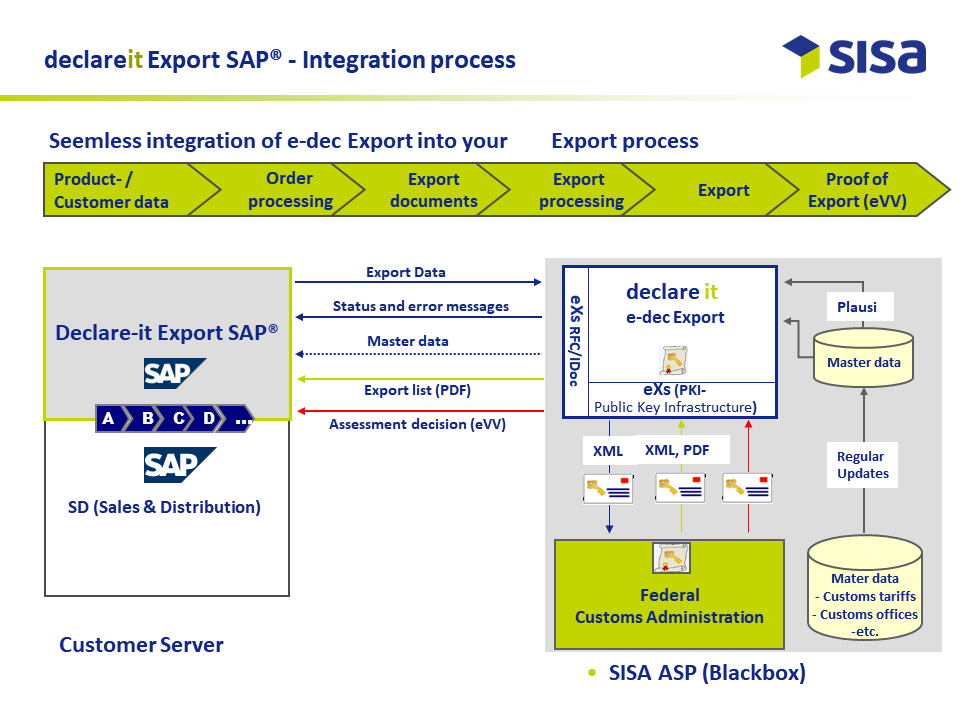 Customer benefits
Complete integration into SAP
Work on the familiar SAP desktop
Customer-specific extensions are possible
Secure and very fast data exchange between the SISA computer centre and the customs server of the FCA
Dedicated helpdesk: Mo-Fr 7.30–12.00 and 13.30-17.00 in German, French, Italian and English
 SISA is the competent partner for all organisational, procedural, customs and IT-specific areas for Swiss customs clearance